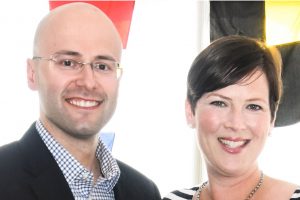 In the war against cancer, it's essential to celebrate our victories, for they inspire us to keep fighting. Fortunately, there is an institution designed to spotlight the heroes and heroines in this grueling fight; created and supported by the Massachusetts General Hospital Cancer Center, the one hundred is an awareness and fundraising initiative that celebrates hope in the cancer community. Each year, the organization honors 100 Everyday Amazing individuals and groups — caregivers, researchers, philanthropists, advocates and volunteers from around the globe — whose commitment to the fight against cancer inspires all to take action.
On Thursday, June 15, the FLY Foundation was honored to be initiated into this distinguished group. The FLY Foundation provides grants to young adults ages 19-39 in Massachusetts and Rhode Island who are undergoing cancer treatment. To date, the foundation has given out more than 170 grants to members of the community. It all began when FLY Foundation founder, Julia Saulino, came face-to-face with cancer at age 29. It became clear that, for many of her peers, keeping their lives, ambitions and finances on track as they battled the disease would take a very special effort. "For those of us who are fortunate enough to beat cancer, many emerge only to face the financial ruins that cancer left behind," Julia says. "I believe that all young adults deserve the opportunity to pursue their goals and start adulthood on the right foot. Cancer survivors shouldn't have to 'lose' after fighting for their life and overcoming such staggering odds."
In a relatively short time, the FLY Foundation has grown to create a new community of support in southern New England. As it raises more funds and reaches more people, it will continue to work to bring financial freedom to those fighting cancer.
To learn more about the one hundred, follow this link.