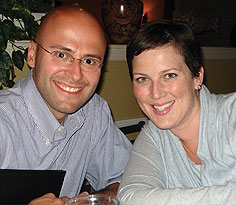 The FLY Foundation was established by Julia Saulino and her husband, Peter Saulino. Julia was diagnosed with Hodgkin's Lymphoma in July 2010 at age 29. In an effort to help other young adults in their community, Julia & Peter established the FLY Foundation in December 2010. Julia's personal journey is documented on her blog,
adjusting the sails
…
At age 29, less than a year married and with what I believed was my whole adult life ahead of me, I never imagined I'd find myself face-to-face with cancer. Neither do many other young adults diagnosed with cancer each year in our Massachusetts & Rhode Island communities, as they struggle to keep their lives, ambitions and finances on track while they battle this disease. For those of us who are fortunate enough to beat cancer, many emerge only to face the financial ruins that cancer left behind. I believe that all young adults deserve the opportunity to pursue their goals and start adulthood on the right foot; I don't think cancer survivors should have to "lose" after fighting for their life and overcoming such staggering odds.
Surviving cancer has afforded me a tremendous appreciation for life, and the opportunity to—with your help—allow other young adults in our community to regain theirs. I thank you for your gracious support. Individually, you have each played a huge part in getting The FLY Foundation off to an incredibly strong start.
In July of 2009, I made a promise to myself, my husband, and my family that "I will fight" to survive and live the future we imagined. Today, I will fight to afford the same freedom to other patients living with cancer. Thank you for joining us in an effort to expand the resources available to young adults with cancer in our community.
With sincere thanks,